(NOTE: Before viewing this post, please be aware that some of the pictures may be disturbing to some people. Do not scroll to view the pictures before reading what this post is about.)
It has been almost a week since I last wrote about the surgery.
I have honestly not known how to put anything into words.
It is disappointing and sometimes discouraging not to have it over with by now.
I was so ready to hand my daughter over to people I have never met and allow them to stop her heart.
I had found my peace and then lost is so quickly.
Eslea's surgery is scheduled for this upcoming Wednesday.
By 8:00 A.M. on Wednesday morning, those same doctors and nurses that I have still yet to meet, will be working to heal my buggie.
We have started getting ready..again.
More prayer.
More packing.
More everything.
I was thinking how blessed we are to have so many friends and caring people that are keeping our little girl in their thoughts and prayers.
So, I decided to explain (and show) a little more about exactly why the prayers are so very needed for our buggie.
Eslea is now four months old.
She was born in September of last year with congential heart defects.
Three to be exact.
Her ductus arteriosus has not closed since her birth (PDA). Her second hole is caused by an atrial septal defect (ASD); a form of congenital heart defect that enables blood flow between the left and right atria via the tissue that separates the left and right atria. She also has a ventricular septal defect (VSD) in the wall dividing the left and right ventricals of the heart. This hole is the largest and takes up about 70% of that tissue. She is in congestive heart failure.
Basically, all that to explain that her lungs and heart are starting to fail. Her lungs have to work overtime to pump the blood that the heart just can not push through. She is still under 10 pounds yet she is almost 23 inches long. She is on three types of heart medication.
Did I mention, she is only four months old?
There are so many other families that have been through this before. Yet others, like me, did not know how often this defect occurs. Almost 8 out of every 1000 newborns are born with a congential heart defect. That is almost 35,000 babies a year.
I do not write this post for those that know this information such as those parents that have been through the same. I do this for those that do not. Those people out there that do not realize what a struggle these babies go through every day just to take a breath.
I am posting pictures of my baby in just her diaper. I only have four to show becuase it is so very hard for me to see her this way. I try to keep clothes on her all the time. Not only because she gets cold so easily but because I cry when I see her bare for too long.
The fact is, even the pictures can not truely reflect her appearance in real life.
With that said, here is my buggie, underneath it all....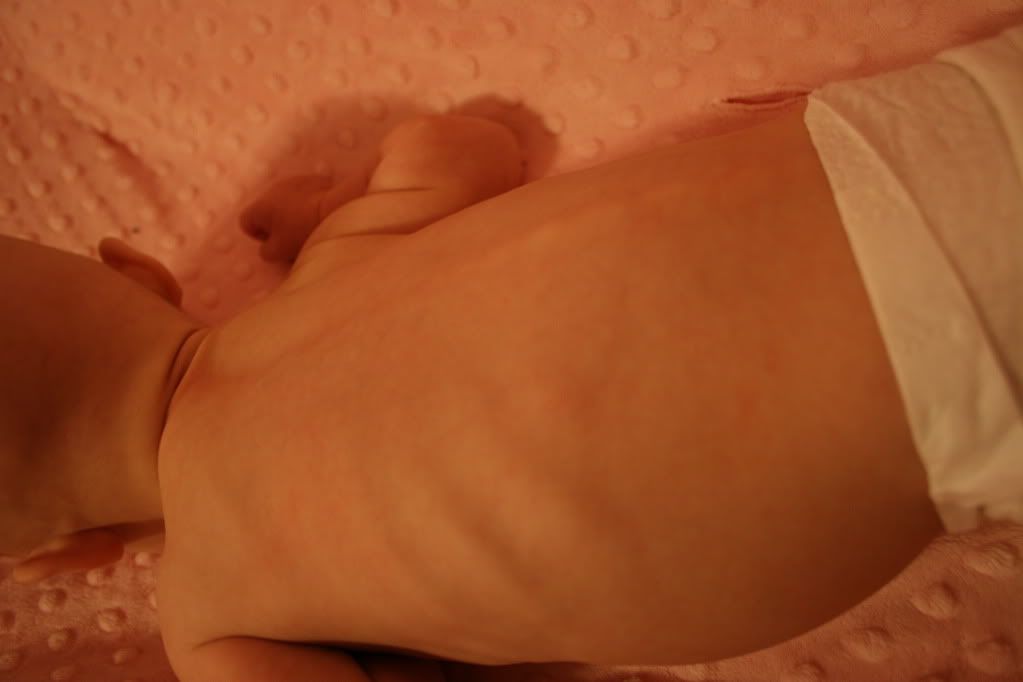 Well, that's her..all of her.
I hope you can now see why I value every prayer sent her way.
She, just as all the litttle blessings like her, need them.
Two more days.
-erin
---------------------------------------------------------------------------------------------------------------------